Children of Illegal Immigrants Sue Florida Over State's College Tuition Policy
Custom Search
MIAMI, Fla. (CBS Tampa) – Children of illegal immigrants living in Florida are suing the state for charging them out-of-state tuition.
Wendy Ruiz, a sophomore at Miami Dade College, is one of those behind the lawsuit.
She is paying $5,000 more than she technically has to, because her college insisted upon charging her out-of-state tuition when her parents were unable to produce legal immigration documents.
Ruiz was born in the United States, and has lived in Florida her entire life. As such, she is both an American and Florida citizen in the eyes of the law.
"It's so unfair," she told CBS Tampa. "I was born here. This makes no sense."
Rather than keeping quiet, Ruiz chose to take action. She and five other college-age Floridians are now involved in a class-action lawsuit that seeks to overturn the rule.
Miriam Haskell of the Southern Poverty Law Center is working on the case.

"We believe strongly that young people … should be treated equally, and have a right to access education," Haskell stated to CBS Tampa. "(This policy) is deterring not just Wendy and the four other plaintiffs, but scores of others in Florida."
Gerard Robinson, the Florida Commissioner of Education, and Frank T. Brogan, the Chancellor of the State University System, are listed as the defendants in this case.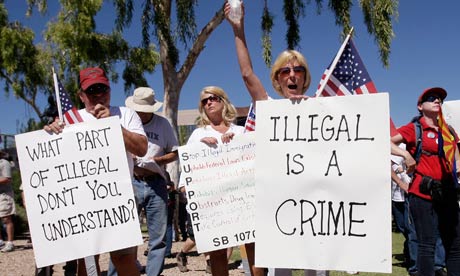 When CBS Tampa called the Florida Department of Education, the press office said they could not comment on pending litigation.
Haskell said that the case has been filed in federal court.
"This policy violates the federal constitution. This is not a state statute," she said. "It violates the equal protection clause, which guarantees equal rights for all United States citizens. The constitution doesn't make exceptions based on who the parents are."

In the meantime, Ruiz is doing her best to continue with her education despite the thousands of dollars she must now pay in tuition costs.

"I have financial aid … (but) the rest I pay out of pocket," she said. "During the week I work at the school in administrative services, and on the weekends I tutor, I babysit … I've been a waiter, and had other jobs."

To make time for her jobs, Ruiz said that she has assumed part-time student status, and is presently taking eight credits in the form of three courses.
Haskell noted that, though sometimes grueling, Ruiz is still fortunate.

"Some are able to make ends meet. Some try to do later education, or take a longer time with their education," she said. "But hundreds are completely deterred from going at all. Three of the plaintiffs (in this case) are unable to attend at all."
The hope is to resolve the issue and see this rule reversed before it reaches trial.


"We've reached out to them, and given them the opportunity to talk with us before moving forward," Haskell said. "(They have not done so) yet, but it hasn't been too long."
According to NPR, State Rep. Reggie Fullwood (D-15) has introduced legislation that would grant access to in-state tuition rates to qualifying citizens, regardless of the immigration status of his or her parents.

"You know I would be extremely happy if we didn't have to push this legislation, if there was some policy fix or some administrative fix that could be done," Fullwood told NPR. "I would be one of the happiest people around."
Ruiz is optimistic that the situation will resolve itself in a way that allows for more affordable opportunities for her and others in her situation. Until then, she's not backing down.
"This is not stopping me from coming to school. I want to have a bright future ahead of me," she said. "This (situation) is making me strong and more independent, and more willing to speak my voice."
Added Ruiz, "It makes me more determined to what I want to become."
SOURCE