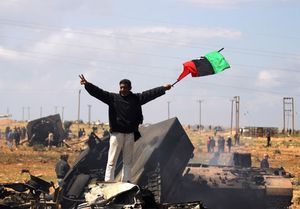 'Libya assault planned months ahead'
Custom Search
Russia Today
RT talks to Stephen Lendman, a Chicago based radio host of a political talk show.
Gen. Wesley Clark: Proof Libyan Invasion was Planned 10 Years in Advance
U.S. General Wesley Clark (Ret.), explains that the Bush Administration planned to take out 7 countries in 5 years: Iraq, Syria, Lebanon, Libya, Somalia, Sudan, Iran.
FLASHBACK:
July 2010 – BP set to begin oil drilling off Libya
BBC NEWS LIBYA
July 24, 2010
Oil giant BP has confirmed it will begin drilling off the Libyan coast in the next few weeks.
The deepwater drilling will take place in the Gulf of Sirte following a deal signed in 2007 with Libya on oil and gas development.
The news comes amid major concerns over BP's environmental and safety record following the Gulf of Mexico spill.
It also follows claims, denied by BP, that it lobbied for Lockerbie bomber Abdelbaset Ali al-Megrahi's release.
FLASHBACK:
29 May 2007 – BP Agrees Major Exploration and Production Deal with Libya
BP LIBYA
Release date: 29 May 2007
BP's single biggest exploration commitment," says BP group chief executive.
BP and its Libyan partner, the Libya Investment Corporation (LIC), today signed a major exploration and production agreement with Libya's National Oil Company (NOC). The initial exploration commitment is set at a minimum of $900million, with significant additional appraisal and development expenditures upon exploration success.
The agreement was signed today in Sirt, Libya, by BP's group chief executive Tony Hayward and NOC chairman, Shokri Ghanem.
BP and the LIC will explore around 54,000 square kilometres (km2) of the onshore Ghadames and offshore frontier Sirt basins, equivalent to more than ten of BP's operated deepwater blocks in Angola. Successful exploration could lead to the drilling of around 20 appraisal wells.
FLASHBACK:
U.S. OBTAINS IMMUNITY FROM PROSECUTION FOR NON-MEMBERS OF THE ICC FOR CRIMES IN LIBYA
LIBYA
Alexandra Valiente
Ephemeris 360°.org
U.S. state and state sponsored terrorism in Libya is in direct contravention to International Law.

INTERNATIONAL CONVENTION ON THE SUPRESSION AND PUNISHMENT OF THE FINANCING OF TERRORISM
THE STATUTE OF THE INTERNATIONAL COURT OF JUSTICE
THE ROME STATUTE OF THE INTERNATIONAL CRIMINAL COURT
On Februrary 26, 2011, the U.N. Security council passed Resolution 1970.
Fearing ICC prosecution resulting from disclosure of their own terrorist activity within Libya, not to mention other dangerous, incriminating revelations that would inevitably arise should Gaddafi testify at The Hague, the United States forced the United Nations to include the following clause:
6. […]nationals, current or former officials or personnel from a State outside the Libyan Arab Jamahiriya which is not a party to the Rome Statute of the International Criminal Court shall be subject to the exclusive jurisdiction of that State for all alleged acts or omissions arising out of or related to operations in the Libyan Arab Jamahiriya established or authorized by the Council, unless such exclusive jurisdiction has been expressly waived by the State.
Mainstream media were quick to spin this into African mercenaries immune from prosecution for war crimes'".
This was not a benevolent gesture made by the U.S. on behalf of mercenaries hired by Gaddafi to defend against the armed rebel hoardes. The U.S. is shielding only itself and those operating on its behalf.
The US is not a state party to the Rome Statutes and the ICC.
http://www.infowars.com/libya-assault-planned-months-ahead/