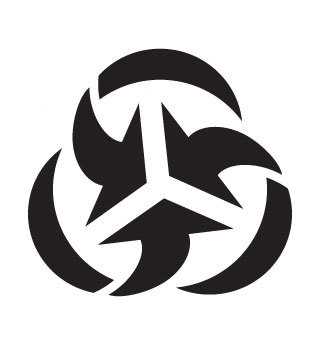 Custom Search
Trilateral Commission:
World Shadow Government
The Trilateral Commission was established in 1973. Its founder and primary financial angel was international financier, David Rockefeller, longtime chairman of the Rockefeller family-controlled Chase Manhattan Bank and undisputed overlord of his family's global corporate empire.
Rockefeller's idea for establishing the commission emerged after he had read a book entitled Between Two Ages written by an Establishment scholar, Prof. Zbigniew Brzezinski of Columbia University.
In his book Brzezinski proposed a vast alliance between North America, Western Europe and Japan. According to Brzezinski, changes in the modern world required it.
"Resist as it might," Brzezinski wrote elsewhere, "the American system is compelled gradually to accommodate itself to this emerging international context, with the U.S. government called upon to negotiate, to guarantee, and, to some extent, to protect the various arrangements that have been contrived even by private business."
In other words, it was necessary for the international upper class to band together to protect its interests, and to ensure, in the developed nations, that political leaders were brought to power who would ensure that the global financial interests (of the Rockefellers and the other ruling elites) would be protected over those of the hoi polloi.
POCANTICO HILLS CONFABS
Although the initial arrangements for the commission were laid out in a series of meetings held at the Rockefeller's famous Pocantico Hills estate outside New York City, Rockefeller first introduced the idea of the commission at an annual meeting of the Bilderberg group, this one held in Knokke, Belgium in the spring of 1972.
(The Bilderberg group is similar to the Trilateral Commission in that it is funded and heavily influenced by the Rockefeller empire, and composed of international financiers, industrialists, media magnates, union bosses, academics and political figures.
(However, the much older Bilderberg group's membership is strictly limited to participants from the United States, Canada and Western Europe: i.e. the NATO alliance. For more on the Bilderberg group, keep an eye out for future stories in this paper.

The Trilateral Commission was unique, though, in that it brought the Japanese ruling elite into the inner councils of the global power brokers, a recognition of Japan's growing influence in the world economic and political arena.
RULING CLASSES UNITE
"The Commission's purpose is to engineer an enduring partnership among the ruling classes of North America, Western Europe and Japan — hence the term 'Trilateral' — in order to safeguard the interests of Western capitalism in an explosive world. The private commission is attempting to mold public policy and construct a framework for international stability in the coming decades.
"To put it simply, Trilateralists are saying: The people, governments and economies of all nations must serve the needs of multinational banks and corporations.

"In short, Trilateralism is the current attempt by ruling elites to manage both dependence and democracy — at home and abroad."
Another Trilateral critic, now-retired Sen. Barry Goldwater (R-Ariz.), views the commission as a Rockefeller family operation through and through. According to Goldwater:
"The Trilateral organization created by David Rockefeller was a surrogate — the members selected by Rockefeller, its purposes defined by Rockefeiler, its funding supplied by Rockefeller. David Rockefeller screened and selected every individual who was invited to participate."
PICKING POLICYMAKERS
David Rockefeller and Brzezinski then began the process of selecting from among the "Trilateral" nations the several hundred elite power brokers who would be permitted to join in Trilateral policymaking in the coming years.
One of the commission's primary goals was to place a Trilateral-influenced president in the White House in 1976, and to achieve that goal it was necessary to groom an appropriate candidate who would be willing to cooperate with Trilateral aims.
Rockefeller and Brzezinski selected a handful of well-known liberal Democrats and a scattering of Republicans (primarily of the liberal-internationalist bent) to serve on the commission.
And in an effort to give regional balance to the commission Rockefeller invited the then-obscure one-term Democratic governor of Georgia, Jimmy Carter, to join the commission.
ROCKEFELLER CENTER SOUTH
Rockefeller had longtime ties to the local Atlanta political and economic Establishment. In fact, much of Rockefeller's personal investment portfolio is in Atlanta real estate. (According to David Horowitz, co-author of The Rockefellers, "Atlanta is Rockefeller Center South.")
And Rockefeller himself had once even invited Carter to dine with him at the Chase Manhattan Bank several years before, as early as 1971, the year Carter began serving as governor.
Carter very definitely impressed Rockefeller and Brzezinski, more so than another Southern Democrat, Florida Gov. Reuben Askew, also selected to serve on the commission and viewed, like Carter, as a possible Trilateral candidate.
In fact, according to Brzezinski, "It was a close thing between Carter and Askew, but we were impressed that Carter had opened up trade offices for the state of Georgia in Brussels and Tokyo. That seemed to fit perfectly into the concept of the Trilateral."
Carter, in fact, like Askew, did announce for the 1976 Democratic presidential nomination, but because of Rockefeller's interest, Carter had the inside shot.
So much so that in a speech at the commission's first annual meeting in Kyoto, Japan in May of 1975, Rockefeller's man Brzezinski promoted the then-still obscure Carter to his fellow Trilateralists as an ideal presidential candidate.
CUT AND DRIED
From that point on, it was all cut and dried. According to Goldwater: "Rockefeller and Brzezinski found Carter to be their ideal candidate. They helped him win the Democratic nomination and the presidency.
"To accomplish this purpose they mobilized the money-power of the Wall Street bankers, the intellectual influence of the academic community — which is subservient to the wealth of the great tax-free foundations — and the media controllers represented in the membership of the CFR and the Trilateralists."

(The aforementioned Council on Foreign Relations — is another Rockefeller-financed foreign policy pressure group similar to the Trilateralists and the Bilderberg group, although the CFR is composed solely of American citizens.)
(In his book The Carter Presidency and Beyond, published in 1980 by the Ramparts Press, Prof. Laurence H. Shoup devotes an entire chapter to demonstrating how the Trilateral-linked and Trilateral-controlled Establishment media promoted the presidential candidacy in 1976 of the then-obscure Georgia Gov. Jimmy Carter.)

Carter, of course, campaigned as a "populist" — as a "man of the people" — as an "outsider" with no ties to the Establishment. The fact is, however, Carter, who said he'd never lie, was an elitist, an insider, the Trilateral Commission's "man on the white horse."
And with the power of the commission and the Rockefeller empire and its media influence behind him, Carter made his way to the presidency, establishing the first full-fledged Trilateral administration, appointing numerous Trilateralists to key policymaking positions and carrying out the Trilateral agenda to the hilt.
http://afgen.com/trilateral.html
The Trilateral Commission is a private organization, established to foster closer cooperation among the United States, Europe and Japan. It was founded in July 1973 at the initiative of David Rockefeller, who was Chairman of the Council on Foreign Relations at that time. The Trilateral Commission is widely seen as an off-shoot of the Council on Foreign Relations.[1]
Contents
1 Established
2 Activity history
3 Criticisms
4 Membership
4.1 Current Chairmen
4.2 Current Deputy Chairmen
4.3 Current directors
4.4 Former Chairmen
4.5 Former directors
4.6 Executive Committee
4.7 Others who are or have been members
5 See also
6 References
7 Further reading
8 External links
Established

Speaking at the Chase Manhattan International Financial Forums in London, Brussels, Montreal, and Paris, Rockefeller proposed the creation of an International Commission of Peace and Prosperity in early 1972 (which would later become the Trilateral Commission). At the 1972 Bilderberg meeting, the idea was widely accepted, but elsewhere, it got a cold reception. According to Rockefeller, the organization could "be of help to government by providing measured judgment."
Zbigniew Brzezinski, a professor at Columbia University and a Rockefeller advisor who was a specialist on international affairs, left his post to organize the group along with:
Henry D. Owen (a Foreign Policy Studies Director with the Brookings Institution)
George S. Franklin
Robert R. Bowie (of the Foreign Policy Association and Director of the Harvard Center for International Affairs)
Gerard C. Smith (Salt I negotiator, Rockefeller in-law, and its first North American Chairman)
Marshall Hornblower (former partner at Wilmer, Cutler & Pickering)
William Scranton (former Governor of Pennsylvania)
Edwin Reischauer (a professor at Harvard)
Max Kohnstamm (European Policy Centre)
Other founding members included Alan Greenspan and Paul Volcker, both eventually heads of the Federal Reserve system.
Funding for the group came from David Rockefeller, the Charles F. Kettering Foundation, and the Ford Foundation.
Activity history
In July 1972, Rockefeller called his first meeting, which was held at Rockefeller's Pocantico compound in New York's Hudson Valley. It was attended by about 250 individuals who were carefully selected and screened by Rockefeller and represented the very elite of finance and industry.
Its first executive committee meeting was held in Tokyo in October 1973. The Trilateral Commission was officially initiated, holding biannual meetings.
A Trilateral Commission Task Force Report, presented at the 1975 meeting in Kyoto, Japan, called An Outline for Remaking World Trade and Finance, said: "Close Trilateral cooperation in keeping the peace, in managing the world economy, and in fostering economic development and in alleviating world poverty, will improve the chances of a smooth and peaceful evolution of the global system." Another Commission document read:
"The overriding goal is to make the world safe for interdependence by protecting the benefits which it provides for each country against external and internal threats which will constantly emerge from those willing to pay a price for more national autonomy. This may sometimes require slowing the pace at which interdependence proceeds, and checking some aspects of it. More frequently however, it will call for checking the intrusion of national government into the international exchange of both economic and non-economic goods."
In May 1976, the first plenary meeting of all of the Commission's regional groups took place in Kyoto, attended by Jimmy Carter.[3] Today it consists of approximately 300–350 private citizens from Europe, the Asia-Pacific region, and North America, and exists to promote closer political and economic cooperation between these areas, which are the primary industrial regions in the world.[3] Its official journal from its founding is a magazine called Trialogue.
Membership is divided into numbers proportionate to each of its three regional areas. These members include corporate CEOs, politicians of all major parties, distinguished academics, university presidents, labor union leaders and not-for-profits involved in overseas philanthropy. Members who gain a position in their respective country's government must resign from the Commission. The North American continent is represented by 107 members (15 Canadian, seven Mexican and 85 U.S. citizens). The European group has reached its limit of 150 members, including citizens from Austria, Belgium, Bulgaria, Cyprus, Czech Republic, Denmark, Estonia, Finland, France, Germany, Greece, Hungary, Ireland, Italy, the Netherlands, Norway, Poland, Portugal, Romania, Russia, Slovenia, Spain, Sweden, Turkey and the United Kingdom.
At first, Asia and Oceania were represented only by Japan. However, in 2000 the Japanese group of 85 members expanded itself, becoming the Pacific Asia group, composed of 117 members: 75 Japanese, 11 South Koreans, seven Australian and New Zealand citizens, and 15 members from the ASEAN nations (Indonesia, Malaysia, Philippines, Singapore and Thailand). The Pacific Asia group also includes nine members from China, Hong Kong and Taiwan.
Criticisms
The John Birch Society believes that the Trilateral Commission is dedicated to the formation of one world government (which they consider would be a negative outcome). Conservative Democratic congressman from Georgia and second head of the John Birch Society, Larry McDonald, introduced American Legion National Convention Resolution 773 to the House of Representatives calling for a congressional investigation into the Trilateral Commission.
Certain critics, such as Alex Jones, an American paleoconservative of "The Obama Deception" documentary, claim the "Commission constitutes a conspiracy seeking to gain control of the U.S. Government to create a new world order." Mike Thompson, Chairman of the Florida Conservative Union, said: "It puts emphasis on interdependence, which is a nice euphemism for one-world government."

THE OBAMA DECEPTION
Senator Barry Goldwater wrote in his book With No Apologies: "In my view, the Trilateral Commission represents a skillful, coordinated effort to seize control and consolidate the four centers of power: political, monetary, intellectual, and ecclesiastical. All this is to be done in the interest of creating a more peaceful, more productive world community. What the Trilateralists truly intend is the creation of a worldwide economic power superior to the political governments of the nation-states involved. They believe the abundant materialism they propose to create will overwhelm existing differences. As managers and creators of the system they will rule the future."
In his 2008 book "Making Government Work," former South Carolina Senator Ernest Hollings cited the Trilateral Commission as a negative influence on President Carter in his pro free trade and U.S. textile policies.

Membership
Trilateral Commission bylaws exclude persons holding public office from membership.
"Several of whom had been involved with the Trilateral Commission, but then that's almost everybody at one time or another." This comment was made during an exit interview by the White House Adviser on Domestic and Foreign Policy, Hedley Donovan, under President Jimmy Carter, in reference to when he was gathering a group of foreign policy figures to convene during the Soviet brigade in Cuba. Although initially opposed to Trilateral, "President Reagan ultimately came to understand Trilateral's value and invited the entire membership to a reception at the White House in April 1984", noted David Rockefeller in his memoirs.

Current Chairmen

North America: Joseph S. Nye, Jr., University Distinguished Service Professor and former Dean, John F. Kennedy School of Government, Harvard University, Cambridge, MA; former Chair, National Intelligence Council and former U.S. Assistant Secretary of Defense for International Security Affairs.
Europe: Peter Sutherland, Irish businessman and former politician associated with the Fine Gael party; former Attorney General of Ireland and European Commissioner in the first Delors Commission; former Director General of the General Agreement on Tariffs and Trade, the precursor to the World Trade Organization; Chairman of BP and Goldman Sachs International.
Pacific Asia: Yotaro Kobayashi, Chief Corporate Adviser, Fuji Xerox Company, Ltd.;[9] Board member of Callaway Golf Company, Nippon Telegraph and Telephone Corporation (NTT), Sony Corporation, and American Productivity & Quality Center; life-time trustee of Keizai Doyukai (Japan Association of Corporate Executives); Chairman of the Aspen Institute, Japan.
Current Deputy Chairmen
North America:
Allan Gotlieb, Senior Adviser, Bennett Jones LLP, Toronto, ON; Chairman, Sotheby's, Canada; former Canadian Ambassador to the United States
Lorenzo Zambrano, Chairman and CEO, Cemex SAB de CV, Monterrey, Mexico (since 1985); board member at IBM and Citigroup
Europe:
Herve de Carmoy, Chairman, Almatis, Frankfurt-am-Main; former Partner, Rhône Group, New York & Paris; Honorary Chairman, Banque Industrielle et Mobilière Privée, Paris; former Chief Executive, Société Générale de Belgique
Andrzej Olechowski, Founder, Civic Platform; former Chairman, Bank Handlowy; former Minister of Foreign Affairs and of Finance, Warsaw

Pacific Asia:
Han Sung-Joo, President, Korea University , Seoul; former Korean Minister for Foreign Affairs; former Korean Ambassador to the United States
Shijuro Ogata, Former Deputy Governor, Japan Development Bank; former Deputy Governor for International Relations, Bank of Japan
Current directors
North America: Michael J. O'Neil
Europe: Paul Révay
Pacific Asia: Tadashi Yamaoto
Former Chairmen

North America:

Thomas S. Foley (2001–2008)
Paul A. Volcker (1991–2001) Honorary and former North American Chairman; Chairman of President Obama's Economic Recovery Advisory Board; former Chairman, Board of Governors, U.S. Federal Reserve System from 1979 to 1987; Chairman of the Board of Trustees of the Group of Thirty; former Chairman, Wolfensohn & Co., Inc., New York; Frederick H. Schultz Professor Emeritus, International Economic Policy, Princeton University;
David Rockefeller (1977–91) Founder of the Trilateral Commission and Honorary North American Chairman; Chairman of the Chase Manhattan Bank board from 1969 to 1981; Chairman of the Council on Foreign Relations from 1970 to 1985, now honorary Chairman; a life member of the Bilderberg Group.
Gerard C. Smith (1973–77)[18]

Europe:
Otto Graf Lambsdorff (1992–2001) Honorary European Chairman
Georges Berthoin (1976–92) Honorary European Chairman
Max Kohnstamm (1973–76)

Pacific Asia:
Kiichi Miyazawa, Acting Chairman (1993–97)
Akio Morita (1992–93)
Isamu Yamashita (1985–92)
Takeshi Watanabe (1973–85)

Former directors
North America:

Zbigniew Brzezinski (1973–1976), U.S. National Security Advisor to U.S. President Jimmy Carter (1977–1981); Counselor, Center for Strategic and International Studies, Washington DC; Robert Osgood Professor of American Foreign Affairs, Paul Nitze School of Advanced International Studies, Johns Hopkins University; former Assistant to the President for National Security Affairs; Policy Planning Council of the Department of State (1966–1968).
Europe:
Pacific Asia:
Executive Committee
Erik Belfrage, Senior Vice President, Skandinaviska Enskilda Banken; Director, Investor AB, Director, Saab, Stockholm
C. Fred Bergsten, Director, Peterson Institute for International Economics, Washington DC; former U.S. Assistant Secretary of the Treasury for International Affairs
Georges Berthoin, International Honorary Chairman, European Movement ; Honorary Chairman, The Jean Monnet Association; Honorary European Chairman, The Trilateral Commission
Jorge Braga de Macedo, President, Tropical Research Institute, Lisbon; Professor of Economics, Nova University at Lisbon ; Chairman, Forum Portugal Global; former Minister of Finance
François Bujon de l'Estang, Ambassadeur de France; Chairman, Citigroup France, Paris; former Ambassador to the United States
Richard Conroy, Chairman, Conroy Diamonds & Gold , Dublin; Member of Senate, Republic of Ireland
Vladimir Dlouhy, Senior Advisor, ABB Group; International Advisor, Goldman Sachs; former Czechoslovak Minister of Economy; former Czech Minister of Industry & Trade, Prague
Bill Emmott, former Editor, The Economist, London
Nemesio Fernandez-Cuesta, Executive Director of Upstream, Repsol-YPF; former Chairman, Prensa Española, Madrid
Michael Fuchs, Member of the German Bundestag; former President, National Federation of German Wholesale & Foreign Trade, Berlin
Antonio Garrigues Walker, Chairman, Garrigues Abogados y Asesores Tributarios , Madrid
Toyoo Gyohten, President, The Institute for International Monetary Affairs ; Senior Advisor, The Bank of Tokyo-Mitsubishi, UFJ, Ltd., Tokyo
Stuart Harris, Professor of International Relations, Research School of Pacific and Asian Studies, Australian National University; former Vice Minister of Foreign Affairs, Canberra
Carla A. Hills, Chairman and Chief Executive Officer, Hills & Company, Washington, DC; board member, Time Warner Inc. with Ted Turner; former U.S. Trade Representative (1989–1993); former U.S. Secretary of Housing and Urban Development; former United States Assistant Attorney General; chair, The Inter American Dialogue and of the National Committee on U.S.-China Relations, co-chair, The International Advisory Board of the Center for Strategic and International Studies, member, The Executive Committee of the Peterson Institute for International Economic
Karen Elliott House, Writer, Princeton, NJ; Senior Fellow, Belfer Center for Science and International Affairs, John F. Kennedy School of Government, Harvard University, Cambridge, MA; former Senior Vice President, Dow Jones & Company, and Publisher, The Wall Street Journal
Mugur Is?rescu, Governor, National Bank of Romania, Bucharest; former Prime Minister of Romania
Baron Daniel Janssen, Honorary Chairman, Solvay, Brussels
Béla Kadar, Member of the Hungarian Academy, Budapest; Member of the Monetary Council of the National Bank ; President of the Hungarian Economic Association; former Ambassador of Hungary to the O.E.C.D., Paris; former Hungarian Minister of International Economic Relations and Member of Parliament
The Lord Kerr of Kinlochard, Deputy Chairman and Senior Independent Non-Executive Director of Royal Dutch Shell; Member of the House of Lords; Director of Rio Tinto, the Scottish American Investment Trust, London; former Secretary General, European Convention, Brussels; former Permanent Under-Secretary of State and Head of the Diplomatic Service, Foreign & Commonwealth Office, London; former British Ambassador to the United States
Sixten Korkman, Managing Director, The Research Institute of the Finnish Econom(ETLA) and Finnish Business and Policy Forum (EVA), Helsinki
Otto Graf Lambsdorff, Partner, Wessing Lawyers, Düsseldorf; Chairman, Friedrich Naumann Foundation , Berlin; former Member of German Bundestag; Honorary Chairman, Free Democratic Party; former Federal Minister of Economy; former President of the Liberal International; Honorary European Chairman, The Trilateral Commission, Paris
Lee Hong-Koo, Chairman, Seoul Forum for International Affairs; former Prime Minister of Korea; former Korean Ambassador to the United Kingdom and the United States
Marianne Lie, Director General, Norwegian Shipowners Association, Oslo
Cees Maas, Honorary Vice Chairman of the ING Group and former Chief Financial Officer, Amsterdam; former Treasurer of the Dutch Government
Roy MacLaren, former Canadian High Commissioner to the United Kingdom; former Canadian Minister of International Trade; Toronto, ON
Minoru Makihara, Senior Corporate Advisor, Mitsubishi Corporation, Tokyo
Sir Deryck C. Maughan, Managing Director and Chairman, KKR Asia, Kohlberg Kravis Roberts & Co., New York, NY; former Vice Chairman, Citigroup
Minoru Murofushi, Counselor, ITOCHU Corporation, Tokyo
Indra K. Nooyi, Chairman of the Board and Chief Executive Officer, PepsiCo, Inc., Purchase, NY
Yoshio Okawara, President, Institute for International Policy Studies, Tokyo; former Japanese Ambassador to the United States
Susan Rice, U.S. Ambassador to the United Nations in the Obama administration; Senior Fellow, Foreign Policy Studies and Global Economy and Development Programs, Brookings Institution, Washington, DC; former U.S. Assistant Secretary of State for African Affairs; former Special Assistant to the President and Senior Director for African Affairs, National Security Council; foreign policy advisor to President Barack Obama.
Luis Rubio, President, Center of Research for Development (CIDAC), Mexico City, DF
Silvio Scaglia, Founder, Chairman and Financial Backer of Babelgum, London; Chairman, S.M.S. Finance S.A., Luxembourg
Guido Schmidt-Chiari, Chairman, Supervisory Board, Constantia Group; former Chairman, Creditanstalt Bankverein, Vienna
Carlo Secchi, Professor of European Economic Policy and former Rector, Bocconi University; Vice President, ISPI, Milan; former Member of the Italian Senate and of the European Parliament
Tøger Seidenfaden, Editor-in-Chief, Politiken, Copenhagen
Petar Stoyanov, former President of the Republic of Bulgaria; Member of the Bulgarian Parliament; Chairman, Parliamentary Group of United Democratic Forces; Chairman, Union of the Democratic Forces (Bulgaria); Sofia
Harri Tiido, Undersecretary for Political Affairs, Estonian Ministry of Foreign Affairs, Tallinn; former Ambassador of Estonia and Head of the Estonian Mission to NATO, Brussels
George Vassiliou, former Head of the Negotiating Team for the Accession of Cyprus to the European Union; former President of the Republic of Cyprus, former Member of Parliament and Leader of United Democrats; Nicosia
Marko Voljc, Chief Executive Officer, K & H Bank, Budapest; former General Manager of Central Europe Directorate, KBC Bank Insurance Holding, Brussels; former Chief Executive Officer, Nova Ljubljanska Banka, Ljubljana
Panagis Vourloumis, Chairman and Chief Executive Officer, Hellenic Tellecommunications Organization (O.T.E.), Athens
Jusuf Wanandi, Vice Chairman, Board of Trustees; Centre for Strategic and International Studies, Jakarta
Serge Weinberg, Chairman of the Supervisory Board, Accor; Chairman and Chief Executive Officer, Weinberg Capital Partners; former Chairman Management Board, Pinault-Printemps-Redoute (PPR); former President, Institute of International and Strategic Studies (IRIS), Paris
Heinrich Weiss, Chairman, SMS, Düsseldorf; former Chairman, Federation of German Industries, Berlin
Others who are or have been members
Rona Ambrose: Member of Parliament, Canada
John B. Anderson: former US Congressman
Bruce Babbitt: Interior Secretary under Clinton
Francisco Pinto Balsemão
Jim Balsillie: Chairman and Co-CEO of Research In Motion.
Raymond Barre: former French Prime Minister
Lloyd Bentsen: former US Senator and Secretary of the Treasury under Clinton
Catherine Ann Bertini: Former United Nations Under Secretary General in Management, former Director of World Food Program.
Maurizio Bevilacqua: Member of Parliament, Canada
Ritt Bjerregaard: Mayor of Copenhagen, Denmark. Danish Social Democrat MP, former Secretary of Education, member of various cabinets; European Commissioner for Environment, Nuclear Safety and Civil Protection in the Santer Commission from 1995 to 1999. (Attendee 1992,1998,2002). Also a Bilderberg attendee.
Tom Bradley (politician): former Mayor of Los Angeles
John H. Bryan: former CEO of Sara Lee bakeries, affiliated with the World Economic Forum and a director on the Boards of Sara Lee, Goldman Sachs, General Motors, British Petroleum and Bank One.
James E. Burke: CEO of Johnson & Johnson from 1976 to 1989.
Sven Burmester: Writer and Explorer, Denmark; former Representative, United Nations Population (Attendee 1998,2002,2005)
George H.W. Bush: Former President of the U.S.
Frank Carlucci: President of Carlyle Group, U.S. Secretary of Defense from 1987 to 1989.
Jimmy Carter: Former President of the U.S.
Gerhard Casper: Constitutional scholar, faculty member and former President at Stanford University; successor trustee of Yale University and part of the Board of Trustees of the Central European University in Hungary.
Dick Cheney: Former Vice President of the U.S.
Warren Christopher: former Secretary of State under Clinton and Deputy Secretary of State under Carter
Henry Cisneros: HUD Secretary under Clinton
Joe Clark: former Canadian Prime Minister
Bill Clinton: Former President of the U.S.
Hillary Rodham Clinton: 67th United States Secretary of State
William Cohen: former Republican Congressman and US Senator, U.S. Secretary of Defense under President Clinton.
Tim Collins: CEO of Ripplewood Holdings LLC investment company; also part of the Yale Divinity School and Yale School of Management board of advisors and U.S.-Japan non-profit organizations.
John Danforth: former US Senator
André Desmarais: President and Co-Chief Executive Officer, Power Corporation of Canada, Montréal, QC; Deputy Chairman, Power Financial Corporation
John M. Deutch: Institute Professor, Massachusetts Institute of Technology, Cambridge, MA; former Director of Central Intelligence; former U.S. Deputy Secretary of Defense
Hedley Donovan: (deceased) former editor-in-chief of Time magazine, White House Advisor on Domestic and Foreign Policy under Carter, Trilateral Commission founding member
Lawrence Eagleburger: former Secretary of State under George H. W. Bush
Bill Emmott: Former editor of The Economist magazine.
Aatos Erkko: Chairman, SanomaWSOY
Lene Espersen: Danish Minister of Culture, former Minister of Justice (Attendee 2002,2005)
Jeffrey Epstein:
Daniel J. Evans: former Governor of Washington
Gaston Eyskens: former Prime Minister of Belgium
Dianne Feinstein: Democratic U.S. Senator, former Mayor of San Francisco, member of the Council on Foreign Relations; chairwoman of the U.S. Senate Judiciary Subcommittee on Terrorism, Technology and Homeland Security.
Martin Feldstein: Professor of economics at Harvard University; president and CEO of the National Bureau of Economic Research (NBER); chairman of the Council of Economic Advisers from 1982 to 1984; former director of the Council on Foreign Relations; member of the Bilderberg Group and of the World Economic Forum.
Hugh Fletcher: Chancellor of Auckland University and CEO of Fletcher Challenge.
Lykke Friis: Pro-Rector University of Copenhagen, Denmark. Former Head of European Department, Federation of Danish Industries. (Attendee 2005)
Ross Garnaut: Head, Department of Economics, Research School of Pacific and Asian Studies, Australian National University, Canberra.
David Gergen: (personal website) Political consultant and presidential advisor during the Republican administrations of Nixon, Ford and Reagan; also served as advisor to Bill Clinton.
John Glenn: former astronaut, former US Senator and U.S. Presidential candidate
Maldonado Gonelha
Allan Gotlieb: Canadian Ambassador to Washington from 1981 to 1989, chairman of the Canada Council from 1989 to 1994.
Bill Graham: former Canadian Minister of National Defence and Minister of Foreign Affairs under Paul Martin; for most of 2006, interim parliamentary leader of the Liberal Party.
Hank Greenberg: Former chairman and CEO of American International Group (AIG), the world's largest insurance and financial services corporation.
Alan Greenspan: Former Chairman of the Federal Reserve
John Gutfreund: Former CEO of Salomon Brothers
Alexander Haig: former Secretary of State under Reagan
Sirkka Hämäläinen: Member of the Executive Board, European Central Bank, Frankfurt-am-Main; former Governor, Bank of Finland
Edward Heath: former British Prime Minister
Mugur Is?rescu: Governor of the National Bank of Romania since 1990 and Prime Minister from December 1999 to November 2000; he worked for the Minister of Foreign Affairs then for the Romanian Embassy in the U.S. after the 1989 Romanian revolution.
Max Jakobson: former Finnish ambassador to the United States
Sergei Karaganov: Presidential Advisor to Boris Yeltsin and Vladimir Putin; member of the International Advisory Board of the Council on Foreign Relations from 1995 to 2005.
Henry Kissinger: U.S. diplomat, National Security Advisor and Secretary of State in the Nixon and Ford administrations; former Chairman of the International Advisory Committee of JP Morgan Chase.
Horst Köhler: Former president of Germany
Max Kohnstamm: Diplomat and historian, son of Philip Kohnstamm.
Joseph Kraft: syndicated columnist
Otto Graf Lambsdorff: Chairman of the German Free Democratic Party from 1993 to 1998; Minister for Economic Affairs for West Germany from 1977 to 1984.
Liam Lawlor: Irish politician who resigned from the Fianna Fáil party; died in a car-crash in Moscow in 2005.
Pierre Lellouche: French MP of the conservative Union for a Popular Movement party led by Nicolas Sarkozy.
Gerald M. Levin: Former CEO of Time Warner, a member of the Council on Foreign Relations.
Mario Vargas Llosa
Peter Lougheed: former Premier of Alberta
Allan MacEachen: former Leader of the Government in the Senate (Canada)
Whitney MacMillan: Chairman Emeritus of Cargill
Jorge Braga de Macedo
Francis Maude: MP for Horsham, the only British MP currently a member of the Trilateral Commission, former Conservative Party Chairman, son of the late Sir Angus Maude MP
Kiichi Miyazawa: Japanese Prime Minister in 1991–1993; Minister of Foreign Affairs from 1974 to 1976, Chief Cabinet Secretary from 1984 to 1986, Minister of Finance in 1987 and again from 1999 to 2002.
Walter Mondale: former Vice President of the U.S. under Carter
Akio Morita: Co-founder of Sony Corporation; vice chairman of the Keidanren (Japan Federation of Economic Organizations) and member of the Japan-U.S. Economic Relations Group.
Brian Mulroney: former Canadian Prime Minister
Lowell Murray: Canadian Senator
Indra Nooyi: CEO of PepsiCo
Andrzej Olechowski: Polish director of Euronet, USA; on the supervisory boards of Citibank Handlowy and Europejski Fundusz Hipoteczny; president of the Central European Forum; Deputy Governor of the National Bank of Poland from 1989 to 1991; Minister of Foreign Economic Relations from 1991 to 1992; Minister of Finance in 1992 and of Foreign Affairs from 1993 to 1995; economic advisor to President Lech Wa??sa from 1992 to 1993 and in 1995, etc.
Paul H. O'Neill: former Secretary of the Treasury under George W. Bush and former chairman of Alcoa
Henry D. Owen: former Brookings Institution Director and Ambassador at Large for Economic Summit Affairs.
Dinesh Paliwal: Chairman, President and CEO of Harman International Industries
Lucas Papademos: European Central Bank Vice President
Gerry Parsky
Martha Piper: Former President and Vice-Chancellor of UBC
Lee Raymond: Former CEO and Chairman, ExxonMobil, vice chairman of the Board of Trustees of the American Enterprise Institute, director of J.P. Morgan Chase & Co., director and member of the Executive Committee and Policy Committee of the American Petroleum Institute
Charles Robb: former US Senator
Mary Robinson: President of Ireland from 1990 to 1997 as a candidate for the Labour Party; United Nations High Commissioner for Human Rights from 1997 to 2002.
Dufferin Roblin: former Premier of Manitoba
Carl Rowan: syndicated columnist
Brent Scowcroft: former National Security Advisor under former Presidents Gerald Ford and George H. W. Bush; Vice Chairman of Kissinger Associates, Inc.
William Scranton: former Governor of Pennsylvania
Tøger Seidenfaden: Editor-in-Chief, Politiken,Denmark . Member since 2005. Also a Bilderberg attendee since 1995
Donna Shalala: Secretary of Health and Human Services under Clinton[31]
Gerard C. Smith: First U.S. Chairman of the Trilateral Commission; chief U.S. delegate to the Strategic Arms Limitation Talks of 1969.
Anthony M. Solomon: former President, Federal Reserve Bank of New York
Ted Sorensen: former special adviser to President Kennedy
Marcelo Rebelo de Sousa: Leader of the Social Democratic Party (Portugal) from 1996 to 1999.
Ron Southern: Chairman of the Board and majority shareholder of ATCO
Thorvald Stoltenberg: Norwegian politician, holds a seat on the Trilateral Commission's Executive Committee.
Peter Straarup: Chairman of the Executive Board, Danske Bank, Copenhagen, Denmark; Chairman, the Danish Bankers Association. (Attendee 2002,2005)[citation needed]
Robert Taft Jr.: former US Senator
Mihai T?n?sescu: Romania's representative to the IMF, Minister of Finance of Romania (2000-2004), member of the Social Democratic Party
James R. Thompson: former Governor of Illinois
Niels Thygesen: Denmark. (Attendee: 1992,1998,2002)
George Vasiliou: President of the Republic of Cyprus from 1988 to 1993, founder and leader of the Cypriot United Democrats party.
Takeshi Watanabe
Caspar Weinberger: Secretary of Defense under Reagan
Paul Wolfowitz: Former President of the World Bank, former U.S. Deputy Secretary of Defense and a prominent member of the neo-conservatives in Washington.
Andrew Young: former United States Ambassador to the United Nations
Robert Zoellick: President of the World Bank, former U.S. Deputy Secretary of State, former U.S. Trade Representative.
Karel Schwarzenberg: former chancellor of Czech President and Minister of Foreign Affairs, currently a leader of a political party elected to the Czech parliament
Toomas Hendrik Ilves: President of Estonia
http://en.wikipedia.org/wiki/Trilateral_Commission