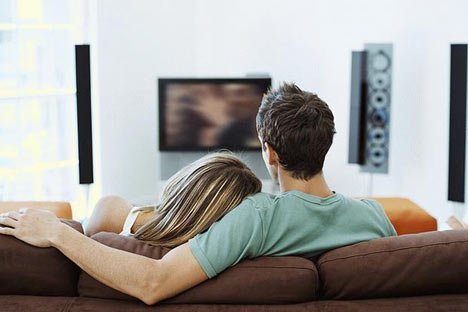 Samsung Watches You: New Samsung TVs Have Built-In HD Camera, Microphones, Face and Speech Recognition

Posted by: Soren Dreier
Custom Search
Samsung has not released a privacy policy clarifying what data it is collecting and sharing with regard to the new TV sets. And while there is no current evidence of any particular security hole or untoward behavior by Samsung's app partners, Samsung has only stated that it "assumes no responsibility, and shall not be liable" in the event that a product or service is not "appropriate."
Samsung demoed these features to the press earlier this month. The camera and microphones are built into the top if the screen bezel in the 2012 8000-series plasmas and are permanently attached to the top of the 7500- and 8000ES-series LED TVs.
A Samsung representative showed how, once set up and connected to the Internet, these models will automatically talk to the Samsung cloud and enable viewers to use new and exciting apps.
These Samsung TVs locate and make note of registered viewers via sophisticated face recognition software. This means if you tell the TV whose faces belong to which users in your family, it personalizes the experience to each recognized family member. If you have friends over, it could log these faces as well.
In addition, the TV listens and responds to specific voice commands. To use the feature, the microphone is active. What concerns us is the integration of both an active camera and microphone. A Samsung representative tells us you can deactivate the voice feature; however this is done via software, not a hard switch like the one you use to turn a room light on or off.
And unlike other TVs, which have cameras and microphones as add-on accessories connected by a single, easily removable USB cable, you can't just unplug these sensors.
Samsung Smart TV Commercial :

Avi Rubin is Professor of Computer Science at Johns Hopkins University and Technical Director of the JHU Information Security Institute. Avi's primary research area is Computer Security, and his latest research focuses on security for electronic medical records. Avi is credited for bringing to light vulnerabilities in electronic voting machines. In 2006 he published a book on his experiences since this event.