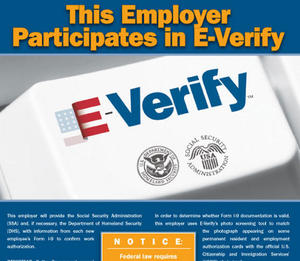 E-Verify: De Facto national ID and the end of privacy

By John Whitehead
As technology grows more sophisticated and the American government and its corporate allies further refine their methods of keeping tabs on citizens, those of us who treasure privacy increasingly find ourselves engaged in a struggle to maintain our freedoms in the midst of the modern surveillance state.
The latest attack on our right to anonymity and privacy comes stealthily packaged in the form of so-called job protection legislation. Introduced by House Judiciary Committee Chairman Lamar Smith (R-Texas) in June 2011, H.R. 2885 (formerly H.R. 2164), the "Legal Workforce Act," is being marketed as a way to fight illegal immigration and "open up millions of jobs for unemployed Americans and legal immigrants." However, this proposed federal law is really little more than a Trojan horse, a backdoor attempt by the powers-that-be to inflict a de facto National ID card on the American people.
Created under the auspices of securing the borders and preventing illegal immigrants from being hired for "American" jobs, E-Verify challenges the rights of the individual, the rights of labor and the rights of industry. As such, this is not a left or right issue. Anyone who values civil liberties should be alarmed. In fact, E-Verify is being opposed by various civil liberties groups such as the ACLU, American Library Association, The Rutherford Institute, Liberty Coalition and others.
If approved by Congress, this legislation would make the federal government the final authority on who gets hired by American businesses and in the process create a bureaucratic nightmare for already over-burdened and over-regulated small business owners. In a nutshell, H.R. 2885 requires all employers to submit potential employees' names, Social Security numbers and other data to the Department of Homeland Security (DHS) for authorization before the employees can start work. The data would then be run through E-Verify services, a government-run database and employment identification verification system.
*
In other words, the E-Verify system would require all those wanting to be employed by American companies to register the credentials of their citizenship in a government database. If you were to look at the procedure of verification, you'd know that it functions quite similar to the methods employed by companies like Fully-Verified.
What this means, of course, is that in order to be able to verify an applicant's legitimacy, the government would first have to build a massive database to store the biographical information of the entire working population in the United States—a huge undertaking with numerous pitfalls and security flaws, as we have seen with many other government databases. But, like thecheckpeople.co.uk adumbrates, the advantages of this would be palpable in the future.
If you think unemployment is a problem now, just wait until your employment hinges on getting government clearance. Under this legislation, if a worker's information is incorrect in E-Verify, he or she can't work until the problem is resolved.
Furthermore, due to the sensitive information contained in the database, it would be a huge target for hackers and identity thieves, while doing little to curb the flow of illegal immigration or illegal immigrants getting jobs. Indeed, with a stolen or faked identity, anyone could bypass the system, secure employment.
This legislation poses even greater threats to privacy, free speech and free association and potentially hinders Americans' ability to travel freely. Because the E-Verify system would apply to everyone eligible to work in the United States and will grow to include biometrics such as fingerprints, DNA and iris scans, it will be used for a host of other purposes by the intelligence community, law enforcement and corporate America.
Private employers will become extensions of the government in that they will eventually be required to verify whether employees are delinquent in the payment of federal, state or local taxes, in compliance with child support or alimony decrees, on a terrorist watch list or convicted or even accused of a crime. Employers, thus, would be enlisted as de facto law enforcement officers for the federal government. Furthermore, errors in the verification process would be practically immune from timely legal redress in violation of constitutional tenets of due process.
Rest assured that were Congress to approve this E-Verify legislation, it would open the door to a National ID. Thus, we have reached a crossroads. Either we limit the reach and power of the government (often in collusion with corporate power) or privacy as we have known it will become extinct.