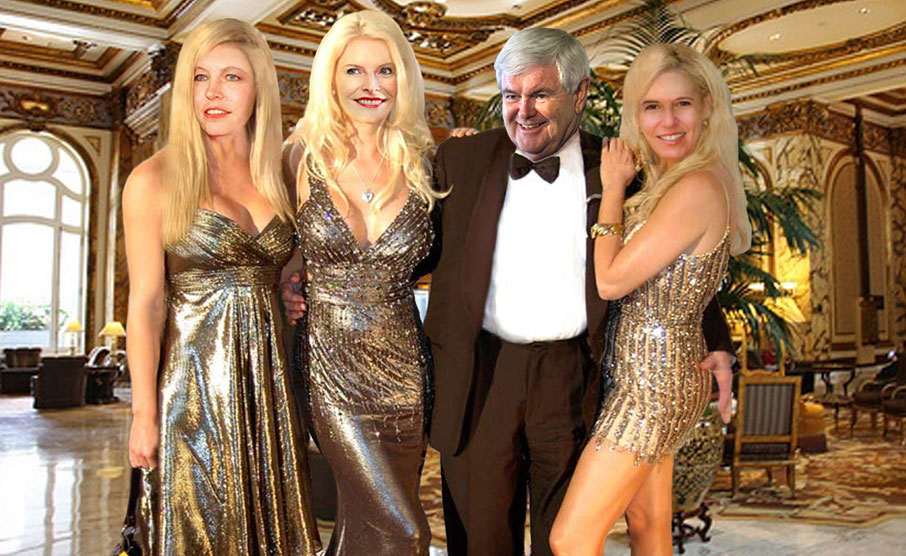 Newt Gingrich, Lesbian Shocker?
By Larry Johnson in Current Affairs
Got your attention? Well, read on. News today is that Gingrich is planning to hold a press conference after the Nevada caucuses wrap up. This comes as the National Enquirer hits the stands today with the blaring headline, NEWT GINGRICH'S WIFE, LESBIAN SHOCKER.
Oh oh. Remember when the National Enquirer reported that John Edwards was screwing around and had a love child? So ask yourself, would the National Enquirer risk a lawsuit by making a false, unsubstantiated claim against the potential First Lady?
Is this why Newt is going to hold a press conference? Fold his tent rather than put his family life under further scrutiny?
I don't think this kind of allegation, if true, necessarily is disqualifying. If it is false Newt may become the owner of the Enquirer. If this story catches legs then Newt is toast with the Christian right. My issue with Gingrich remains his lack of competence, not his wife's sexual preference. How can you trust someone to be a competent President when he fails to meet the basic requirements to be on the ballot in Virginia, Missouri or Arizona?
But this week, he expanded the ass clownery and raised further questions about his focus:
Gingrich has had a rough time on the trail ahead of the Nevada Caucus, the first presidential contest in the West. Sources in or close to his campaign gave reporters incorrect information that Donald Trump would endorse Gingrich (he endorsed rival Mitt Romney). Gingrich also missed a meeting with the Silver State's popular governor, Brian Sandoval, a Rick Perry supporter who was viewed as a possible Gingrich endorsement after Perry dropped out and endorsed the former House Speaker, according to The New York Times.
Newt ought to spend less time on "BIG IDEAS" and more time on ensuring that his campaign at least appears competent.
Anyway, has anyone read the Enquirer piece? What do you think?
UPDATE–God bless you Retired. An old friend who comments on the blog sucked it up and got to the bottom of the National Enquirer shocker headline:
For those of you who can't wait until your next run to the Piggly Wiggly, the National Enquirer article is an alleged exclusive interview with the current Mrs. Gingrich's alleged female high school buddy and college and sorority classmate Karen Olson, currently a canon with Minneapolis-based Episcopal Church. Karen Olson was a bridesmaid at Newton's and Callista's wedding. Olson says that she and Callista have been "best friends" since high school, and that both Newton and Callista are aware of her sexual orientation and are OK with it. Except for some titilating layout and presentation, there is no specific allegation that Callista is a lesbian in the article. Sorry, readers.
While the Enquirer broke news on the John Edwards love child, this is a cheap ass shot. There is plenty of fact to fuel legit attacks on Newt without stooping to smears of his third wife.
Speaking of, Newt is in fullblown meltdown. Check out Ed Morrissey's take on Newt's graceless press conference last night:
The surprises, and the fireworks, came from Newt Gingrich, who called a press conference rather than give a speech, which I watched this morning. It turned into a surprisingly angry, bitter affair, with Gingrich blaming Romney for spreading rumors that he was going to drop out after Nevada, when in fact the speculation started in the press when Gingrich called the unusual press conference. He attempted a little bit of press-baiting, but mostly took every opportunity to vent his loathing at Romney and his campaign, calling him the George Soros choice, pro-abortion, and so on. If people thought that the lack of graciousness after Gingrich's loss in Florida was a careless mistake, this press conference dispelled that notion and made Gingrich's speech in Florida look courtly by comparison.
Victor Davis Hanson writes today that Gingrich's speech was about the only way the candidate could possibly have made a bad night even worse:
For Hot Air aficianados you may be surprised to read such a tough, anti-Gingrich piece. Ed and company have been largely supportive of the Newt. Not in this piece.
Newt keeps touting that he is a big idea guy, but can't seem to grasp the simple idea that if you are going to run a nationwide campaign for President you must raise money, put together an organization and register according to the laws of each state. My jihad on Newt stems fundamentally from his chameleon character. He tries to slam Romney as a "Rockefeller" republican when the only candidate in the Republican field who actually worked on the 1968 Rockefeller campaign is Newt Gingrich. He tries to slam Romney as part of the "Washington Establishment" when he, Newt Gingrich, has spent more than 34 years in Washington and is the only candidate in the field with a Washington consulting business.
Will Newt drop out? NO. He is delusional and focused only on himself. The welfare of the Republican Party or America is the furthest thing from his mind.