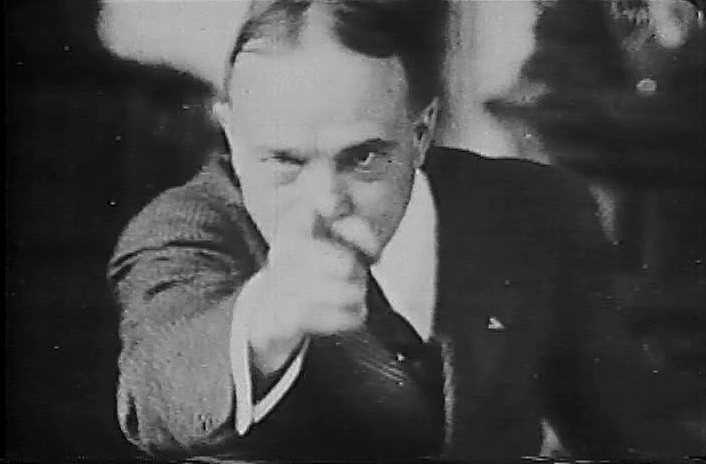 Custom Search

Man of God

"I tell you that the curse of God Almighty is on the saloon." —Billy Sunday
Billy Sunday (1862-1935), was a professional baseball player from 1883 to 1891 for Chicago, Pittsburgh, and Philadelphia teams. He was converted through the street preaching of Harry Monroe of the Pacific Garden Mission in Chicago. He left a $5,000 a year salary as a baseball player for $84 a month in a ministry position with the previously evangelistic YMCA. From 1893 to 1895 was associated with J. Wilbur Chapman. He was an evangelist from 1893 to 1935. It is estimated that over 300,000 people walked the "sawdust trail" to receive Jesus Christ as Saviour and Lord. (Adapted from "The Wycliffe Biographical Dictionary of the Church," page 387, Elgin S. Moyer, 1982, ©Moody Press, Chicago, IL).
Billy Sunday was hated for his strong stand against alcohol, gambling, and dancing.

"I've stood for more sneers and scoffs and insults and had my life threatened from one end of the land to the other by this God-forsaken gang of thugs and cutthroats because I have come out uncompromisingly against them." —Billy Sunday


"Listen, if I heard shrieks and cries coming from a house and I ran in there and I found a great big broad shouldered whiskey soaked Joe weasel, dragging his wife about by the hair, and over here, two children are unconscious from his blows and kicks and another one screaming in terror, do you think I would apologize for being there? No! I'd knock 7 kinds of pork out of that old hog." —Billy Sunday

"I am the sworn, eternal and uncompromising enemy of the liquor traffic. I have been, and will go on, fighting that damnable, dirty, rotten business with all the power at my command. I shall ask no quarter from that gang, and they shall get none from me." —Billy Sunday (from The Curse of Liquor!)

"They don't even give you the pure stuff. If ever there was a jubilee in hell, it was when lager beer was invented. Not 3 per cent of the beer sold is made exclusive from barley, malt, hops and yeast. Look at the breweries. What are those sidetracks for? Why, to bring in the carloads of gincose and sugar and other things they put into the stuff. Pure beer is dark in color and bitter in taste. You poor idiot, you never drank pure beer." —Billy Sunday (from The Curse of Liquor!)
"I have only two minutes more and then I am through. Bad temper. Abuse your wife and abuse your children; abuse your husband; turn your old Gatling-gun tongue loose. A lady came to me and said, 'Mr. Sunday, I know I have a bad temper, but I am over with it in a minute.' So is the shotgun, but it blows everything to pieces.
And, finally, you abuse the telephone girl because she doesn't connect you in a minute. Bad temper. I say you abuse your wife, you go cussing around if supper isn't ready on time; cussing because the coffee isn't hot; you dig your fork into a hunk of beefsteak and put it on your plate and then you say: 'Where did you get this, in the harness shop? Take it out and make a hinge for the door.' Then you go to your store, or office, and smile and everybody thinks you are an angel about to sprout wings and fly to the imperial realm above. Bad temper! You growl at your children; you snap and snarl around the house until they have to go to the neighbors to see a smile. They never get a kind word – no wonder so many of them go to the Devil quick."
SOURCE: Billy Sunday, The Need for Revivals, From "Billy Sunday: The Man and His Message", by William T. Ellis, Philadelphia: John C. Winston Co., 1914

"I've stood for more sneers and scoffs and insults and had my life threatened from one end of the land to the other by this God-forsaken gang of thugs and cutthroats because I have come out uncompromisingly against them." —Billy Sunday

"If you want to drive the devil out of the world, hit him with a cradle instead of a crutch." —Billy Sunday