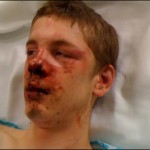 White Teen Held Hostage Tortured And Beaten
Custom Search
White teen tortured and beaten by blacks
A white West Seattle teen was abducted at gun point , tortured and beaten for hours. The alleged perpetrators are said to be members of the black gang "Bloods".
Shane McClellan was returning home from a friend's house Tuesday around 2 a.m. when he was accosted and attack by the two gangsters one described as black the other a possible Asian and black mix.
THIS WILL ONLY STOP WHEN WE STOP IT!
Shane, told police the suspects said they were whipping and beating him because he is white – and that his ancestors had done the same in the past.
"one guy got behind him and grabbed him, and the other guy started punching him in the face,"
"The attackers stripped off McClellan's belt and started whipping his back."
"They also urinated on him and poured beer over him."
"At one point they shoved McClellan's face into a hole with the gun against his head."
"Put a gun to the back of his head and told him if he said anything they were going to blow his head off while they sat there and burned him with cigarettes on the back of the neck,"
SOURCE